Auto dealers near Santa Ana can give one hundred and one reasons why you should buy a 2019 Toyota 4Runner TRD Pro, as they are a simple and durable vehicle that has proven to outlast all competition! You can go farthest corners on the map thanks to the TRD Pro's excellent high-performance features and carry just about anything with its awesome utility components.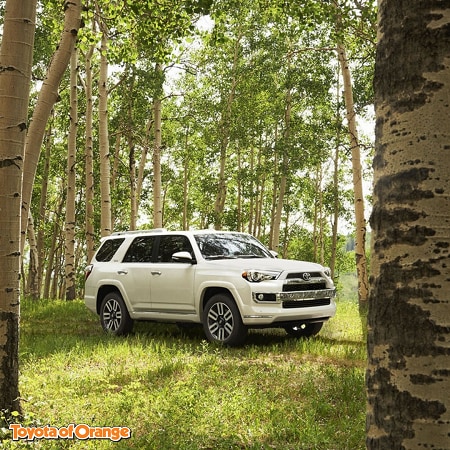 Driving
As such the car has preserved many of its concept features since the 2010 models, but as the saying goes, "If it ain't broke, why fix it?" However, there are a few important changes to the 2019 model. For instance, the TRD Pro model benefits from Fox shock absorbers and underbody protection. It has 17-inch wheels, skid plate with TRD stamped in red, and a storage rack on top. Under the hood is a 4-liter V6 engine that pushes out 270 horsepower, 278 lb-ft of torque, and five-speed automatic transmission.
When you are driving the car off-road, you will see how it isn't afraid of anything! The car feels solid and lets the driver sit high with a very commanding view. Although the car is boxy in appearance, the visibility is very good. There is a fuel consumption with 17 mpg (city), 20 mpg (highway) and 18 mpg (combined). On the plus side , however, the vehicle can tow up to 5,000 pounds, and it rides over bumps with little effort and accelerates sufficiently. The 4Runner drives quietly even when driving on rough surfaces with its roof rack attached to the top and all-terrain tires. So if you are planning to take the 2019 Toyota 4Runner on a long trip, you will have a pleasant and quiet ride!
Technology
Auto dealers near Santa Ana say the technology in the 2019 Toyota 4Runner TRD Pro is standard and practical, which is a boon to those who prefer no-fuss gadgets in their adventure-seeking SUV. It comes with practical features such as windshield wiper de-icer, power outlet control, mirror and light controls. There is a big and bulky steering wheel that has essential controls. There are regular gauges above the steering wheel, a 6.1-inch screen in the center that operate with big buttons. It doesn't come with Apple Carplay or Android, but you can hook yourself up with some Sirius XM! Also, you can listen to your tunes on a 15 speaker JBL system.
There is a navigation system to help you out when you get lost on your off-roading adventures and big rubber knobs that operate the car's climate manually. Underneath this, there is a USB and auxiliary port, as well as a 12-volt power outlet. The backup camera provides only one view and there is a button to open and close the car's trunk window. The 2019 TRD Pro comes with a key fob where you can push to lock and unlock the vehicle, as the car operates with a key ignition system. Above the car there is a vanity light mirror, so you can check yourself out easier, a sliding visor, automatic dimmer, rearview mirror, garage, moonroof and off-road controls such as A-Trac, rear locker and crawl control.
Comfort
The car's interior is made of Soft Tech's leatherette material. The seats are heated and the driver has an eight-way adjustable with 2-way power lumbar, and with enough bolstering to keep you in place when making some sharp corners! It comes with an optional running board to help you get into and out of the car easier. Most of the dashboard and side doors are made with a hard plastic material with soft leatherette combined in some areas. The side doors have cubby space for bottles and durable armrests.
The vehicle is perfect for carrying heavy loads with its 46 cubic feet of space in the rear. When you fold the backseats down, there are about 88.8 cubic feet of cargo space. In case you were wondering, the back seats do fold down completely flat, which is perfect when you have to slide things inside the vehicle. The passengers in the back can also make use of the fold-down armrest and cupholders.
The car's interior is nice and simple, with basic, no-nonsense technology. There are huge buttons, knobs, and dials which feel perfect when you are trying to use them wearing gloves or if you have some mighty sausage fingers! The buttons feel really solid with no wiggle to them. You just push them in with no issues at all. The front of the car has a couple of cup holders, cubby spaces and glove box for the driver and front passenger to utilize. The center console is soft and has some decent storage space with a power outlet and coin holder.
Overall
The 2019 Toyota 4Runner TRD Pro is way more dependable than most of its competitors. The general rule of thumb is to make sure that you choose a Toyota model that you want to drive for several years to come since they last a very, very long time! The Toyota 4Runner is ideal for everyday commuting, shopping, or weekend adventures. It has a dependable performance and comes in a very sturdy design so it can handle any challenging road conditions. The comfortable interior, cargo space, soft suspension, good balance on the road with accurate steering, and the fact it produces little to no cabin noise, makes the Toyota 4Runner TRD the ideal vehicle to take on family road trips across the country.
Although the 4Runner is a large vehicle it has low-cost maintenance, a basic interior that anybody can handle and heaps of durability. This is how an SUV should be - tough, rugged with no fancy frills so it focuses more on getting you across rough terrain or bad road conditions safe and soundly. As soon as you see this car in person, the appearance it gives is that it means business - and it does! Get down to auto dealers near Santa Ana to test drive a 2019 Toyota 4Runner TRD Pro to see for yourself today!