Near Santa Ana auto dealers crossover sales are sky-rocketing, but cars like the Toyota Corolla still manage to sell like hotcakes! The 2020 Toyota Corolla Sedan LE has the iconic automobile blueprint that makes customers want to replace their old Corolla with another Corolla. In a nutshell, the Toyota Corolla is a sure winner, and the 2020 Toyota Corolla is the new conquering hero in Toyota's most beloved line!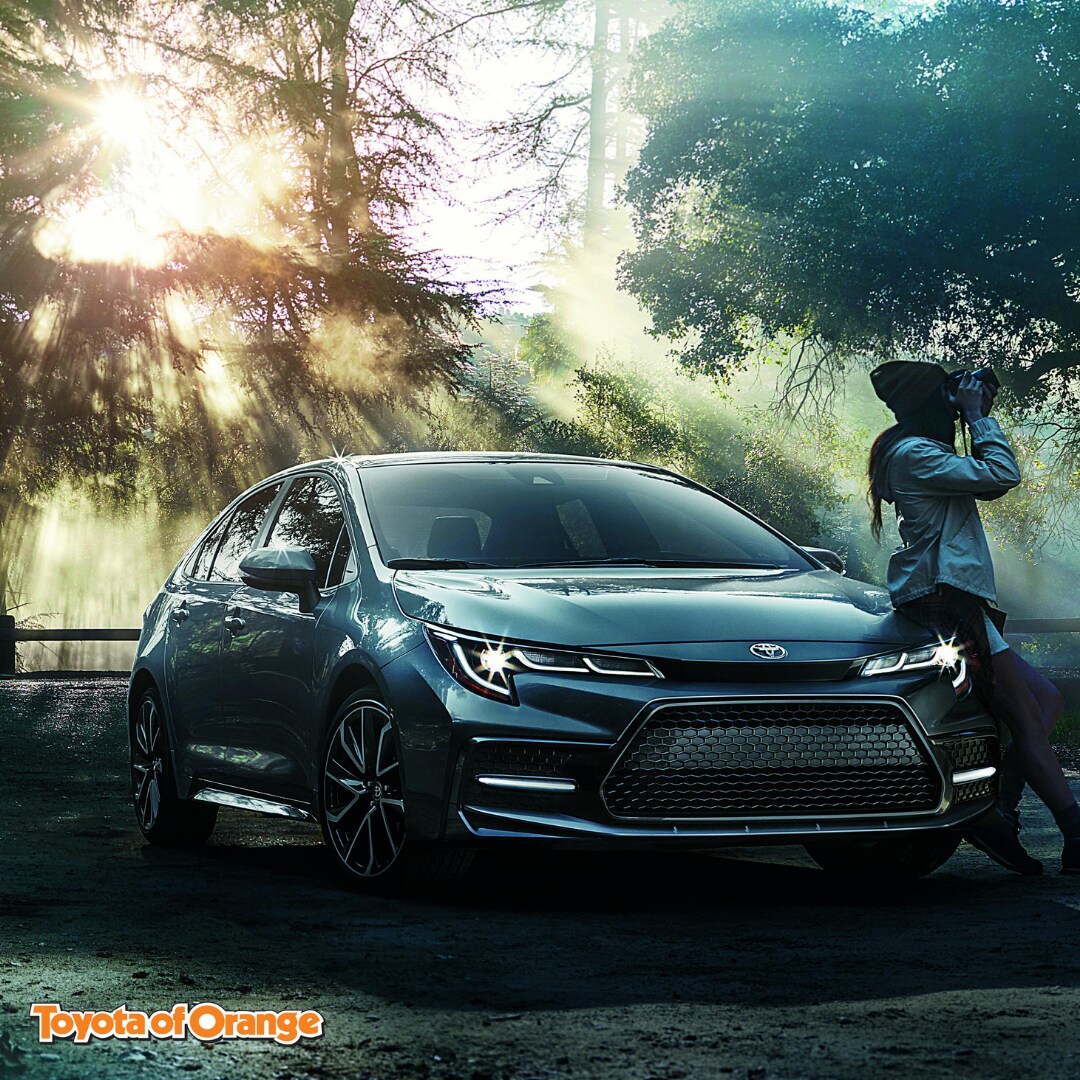 Driving
This car comes with 16-inch steel wheels, color-keyed folding side mirrors and door handles. The gas tank size is 13.2 gallons and has front and rear disc brakes to allow the driver to have better stopping distance. It has a 1.8 dual overhead cam 4 cylinder engine, 139 horsepower and 126 pound-feet of torque, electronically controlled CVT along with front McPherson struts as well as a rear multi-link suspension.
The car drives very smoothly and precisely around corners and glides like a dream on the highway or city roads too! You won't feel any uneven roads or potholes under the car's tires. When you drive the 2020 Toyota Corolla you will notice how quiet it is, as you won't hear a lot of road noise as you are accelerating. When you test drive the 2020 Toyota Corolla Sedan LE you will notice that because of the car's great visibility, there aren't many blind spots. The EPA estimation is 30 mpg in the city and 38 mpg on the highway, which is a reasonable fuel economy.
Technology
Toyota didn't spare any expense when inputting technological features into the 2020 Toyota Corolla. The list of devices such as LED headlights, LED accent lights, LED tail lights and stop lights have a faster response time to give the driver behind you extra time to stop as well. Toyota Safety Sense 2.0 which includes Radar Cruise Control, Automatic High Beams, Lane Departure Alert with steering assistance which nudges the driver back into the appropriate lane. Also, the vehicle has Pre-Collision System with pedestrian detection in both daytime and low lighting (night time), bicycle detection to alert you of bike riders during the day time, Lane Tracing Assist which keeps the driver center in their lane, and Road Side Assist.
The 2020 Toyota Corolla definitely provides a complete safety package for its drivers that blows their competitors out of the water, or should we say road? The car's radar is placed high above the car's grille and near to the hood so it doesn't get altered by rain, watery, or muddy roads. Other car manufacturers usually place the vehicle's radar very low, but this exposes the radar to the elements and changes its accuracy. Furthermore, the backup camera is located underneath the truck's shelf to protect it from natural elements such as rain and snow. The car comes with an 8-inch audio screen that has Bluetooth, voice commands, Apple Carplay, and Alexa enable commands.
Comfort
The car's interior is very simple, but also very modern. Those who are afraid of technology, or can't be bothered to study a 500-page instruction manual, will be over the moon to find out Toyota made the 2020 Corolla accessible for everybody to operate. Also, the interior features in the car look well made from good quality materials. The front of the car has good visibility and a window cut out at the A-pillar for extra clarity while driving on the road.
The driver's seat is manually adjustable with a height raiser, is reclinable and offers a lot of legroom, with the same for passenger seats as the seats are firm yet comfortable. The interior has many soft-touch finishings and controls that not only look good but feel great to touch. There is glove box space on the front passenger side and a cubby hole in between the driver and passenger seat that opens up to reveal 12-volt circular port and also a charging USB port. A data port is located next to the glove box for a total of two USB connections. If you or your wife love to shop, you will be happy to know that the 2020 Toyota Corolla has a cargo capacity of 13 cubic feet! There is ample room to store shopping bags, luggage, supplies, golf clubs, trollers and baby gear.
Most of the basic functions that you will need and adjust when driving are located on the car's steering wheel. This is not only very handy but also helps to limit distractions while cruising down the road. On the steering wheel, there is the multi-information display to pick up and hang up a call, volume, voice commands, Radar Cruise Control, Lane Departure Alert with steering assist. In between the driver and passenger seats, there are nice, deep cup holders and bottle holders in the sides of the doors. The 8-inch screen is set up high, where your eyes meet the windscreen so you can comfortably view the screen and not have to look down while you are driving.
Overall
Redesigning a car that is already the best-selling vehicle in the world is no small feat, but the engineers at Toyota nailed this one! The 2020 Toyota Corolla Sedan LE is the 12th generation Corolla that Toyota has come out with. The Corolla line has managed to sell over 46 million units over the last 50 years! Besides being a very impressive achievement, it is evidence that you can't go wrong when you purchase a 2020 Toyota Corolla near Santa Ana auto dealers.
As soon as you take a glimpse of the 2020 Toyota Corolla, you will be admired by the car's sleek bold lines that take this automobile to the next level. Not only does it look super, but it also gives great gas mileage so you don't have to worry about breaking the bank as you roll up in style with this ride. We have to tip our hat to Toyota for making sure that the 2020 Toyota Corolla ticked all the right boxes for driving experience, comfort, style, technology and safety for their loyal Corolla consumers!