When you are at used cars near Tustin Toyota looking at all the Toyota Certified vehicles on show, you may not be able to keep your eyes off the 2016 Toyota Camry SE. That is for good reason because the 2016 Camry has everything you want out of a used midsize vehicle. It gets you from point A to point B with comfort, safety, and reliability!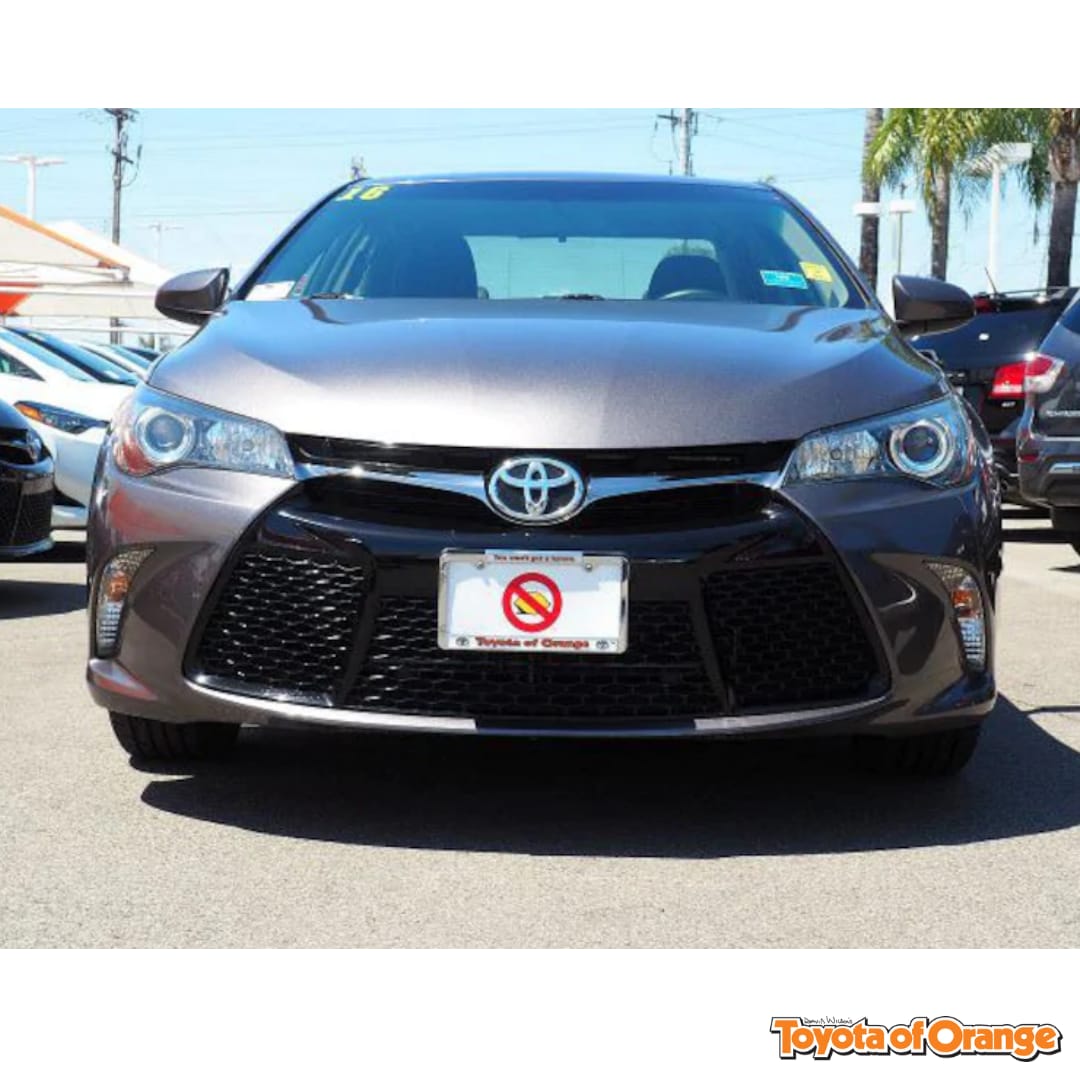 Driving
The 2016 Camry SE is one of the most asked for used cars near Tustin Toyota because of its sport-tuned suspension, 17-inch graphite-finish alloy wheels, black headlight bezels, chrome exhaust tip, rear decklid spoiler, and appealing piano black mesh grille. It has a 2.5-liter inline four-cylinder with dual cams, variable valve timing with intelligence. It has 178-horsepower that is linked to a six-speed automatic and the car's front wheels. It produces 178 pound-feet of torque.
The 2016 Camry is the entry-level model, which is very adequate and can spin to redline without any vibration and remains quiet even when it has to work hard. Additionally, we can understand why 90% of buyers go for this engine since it is extremely economical with a fuel efficiency of 25 mpg (city), 35 mpg (highway), and 28 mpg (combined).
Nevertheless, if you need more power torque, speed and consumption, the 2016 Camry comes in a 3.5-liter V6 engine that puts out 268 horsepower and 248 pound-feet of torque. As transmissions go, the only one available for non-hybrid Camrys is a six-speed automatic. However, It does provide a lot of smoothness and speed while driving. The 2016 Camry's acceleration is not going to win you any Formula 1 races, but it is perfect for everyday driving.
Technology
You get your standard keyless entry system that Toyota is known for with its integrated key fob. However, the smart key access system is optional on four-cylinder models, but you can have it on the special edition model. There are fully powered windows, locks, and mirrors, so adjusting, opening and closing is no effort at all. The vehicle includes traction control, Bluetooth audio, cruise control, headlight controls, variable intermittent speed wipers.
The audio system has everything you could wish for out of a 2016 vehicle. There is the AM/FM radio, CD player, camera intuitive switchgear, USB Bluetooth streaming, audio, and auxiliary. The buttons and dials on the console are big and chunky, so they are easy to handle and hard to miss. Perfect for drivers who like to change radio channels and climate settings while they have to keep their eyes on the road. The technology and functions on the 2016 Toyota Camry are a breeze to operate and figure out.
Also, used cars near Tustin Toyota are happy to point out that with the XLE and XSE models you get one extra feature that you really won't find in any other vehicle - and that is wireless charging for your cell phone with the Qi wireless charging feature! When you put the 2016 Camry SE in reverse, you activate the GUP camera with guidance lines. Perfect to help those that have difficulty backing out of tight spaces.
Comfort
Once you are inside the Toyota Camry, you can sit in the SofTex simulated-leather upholstery on bolstered seats and put your hands on the leather-trimmed three-spoke steering wheel. The Camry is stretched out spacious with a roomy backseat. You can find buttons for the Bluetooth and cruise control conveniently located on the steering wheel as well as the paddle shifters behind the wheel to control the car's six-speed automatic. The driver's seat has a fully powered lumbar, the door panel has a soft touch padded armrest and there is padding all across the inside of the door.
The dashboard has a soft touch padded material and underneath the center console, there is a storage cubby that contains a USB port and a 12 volt. The center console slides open to reveal even more storage space that has another 12-volt outlet! The rear seats have ample room for two adults and there is also soft-touch panel doors and they have bottle holders down below. The back seats can take advantage of the dual map pockets on the back of the driver and passenger seats. There is a little storage space that contains a removable mat for cleaning. The center armrest in the rear can fold up and down and contains two cup holders and padding.
There is a huge trunk with around 15 cubic feet of storage space, an enormous opening and low liftover height make it easy to access. The rear seats fold 60/40 and there is good hard material on the back of them, so you can keep your mind rest assured that if you have to slide things through it won't damage or scratch up the back of the car's seats.
Overall
You have to hand it to Toyota for being an innovator of family sedan cars. When you open the page in the dictionary that reads"sensible driving", you may as well find an image of a Toyota Camry next to it. They are practical, fuel-efficient, and their likelihood of breaking down is as comparable as winning the lottery! (okay probably not that much)
Toyota's biggest change for the 2016 Camry was introducing the SE special edition model. This model is only available in two exterior colors - Blue Crush and Blizzard Pearl. Furthermore, Toyota has added the unique looking 18-inch alloy wheels, smart key access system with push-button start power, tilt, and slide moonroof and blue interior accents to the SDS standard equipment. It has a smooth engine with a very responsive gearbox and a voluminous cabin as well as truck space.
If you are a fan of a sporty midsize sedan, the 2016 Camry SE provides a premium interior, a good looking vehicle and a better automobile to drive. It is without a doubt a great automobile and smart purchase. You get all these wonderful features such as drivability, technology, and comfort with an affordable price tag at used cars near Tustin Toyota!