Used cars serving Santa Ana understand that we are all driving towards an electric future, but how can you pooh-pooh the hybrid Toyota Prius? Especially the 2016 Toyota Prius Three Hatchback, one of the most successful hybrids ever made!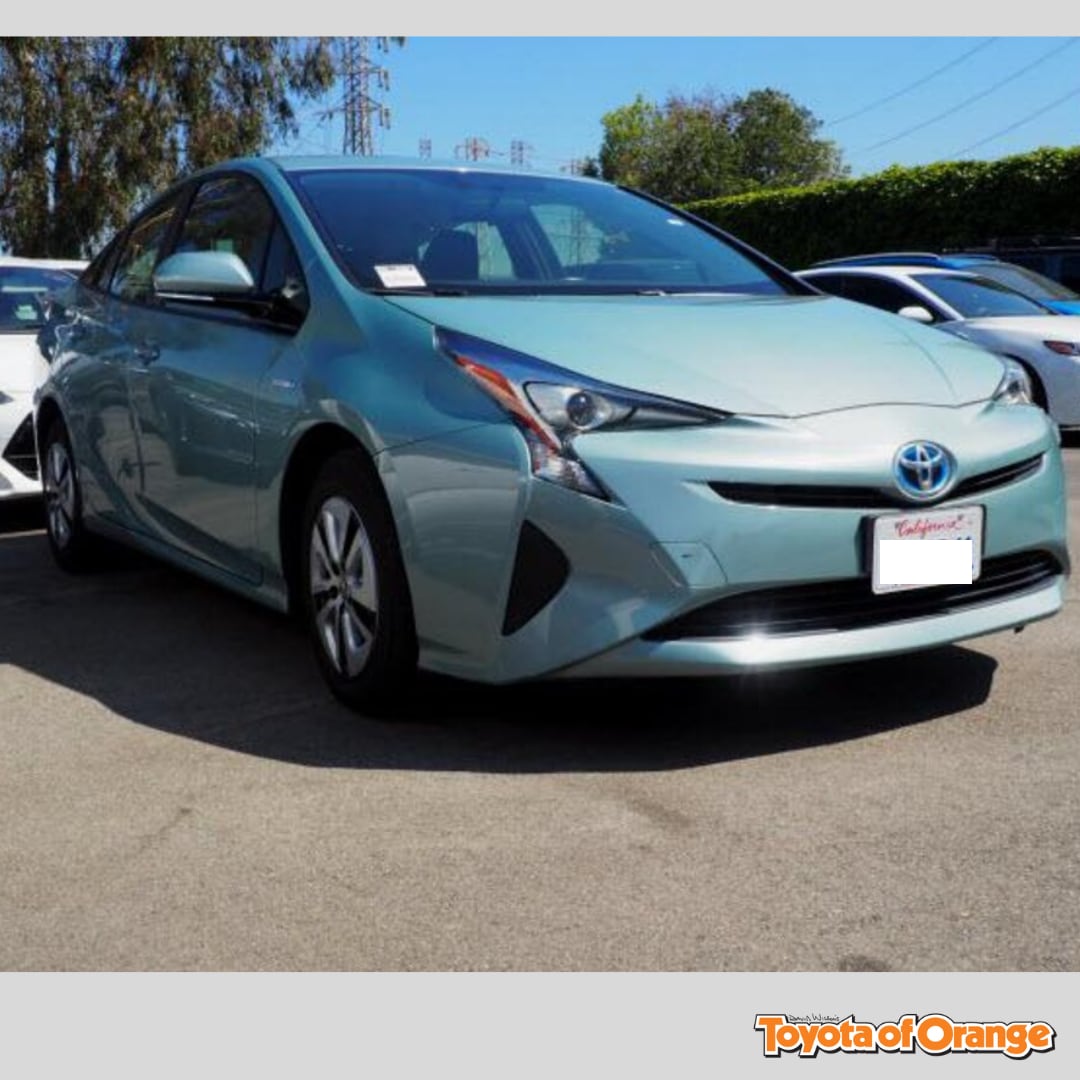 Driving
It's fair to say that Toyota wasn't the inventor of the hybrid, but what they can take credit for is that the Prius is the most successful hybrid ever made. The 2016 Toyota Prius Three Hatchback is the fourth generation Prius that representatives at used cars serving Santa Ana have the pleasure of showing to their esteemed clientele.
This Prius generation has more room, a better ride, and an updated appearance that will surely get you noticed! Under the hood, you will find a 1.8-liter gas engine, which is not like any other typical engine, as Toyota declares it to be the most thermally efficient gas engine ever made! It puts out 95 horsepower, which we know doesn't sound like a lot, but you have to keep in mind that it is only one part of this magnificent car's power equation.
On the other side of the coin, the car contains an electric motor that tots up a further 30 more horses to bring the total output to 121 horsepower. The Prius Three features a lithium-ion battery pack, which is not only lighter but also efficient. According to EPA rates, the Prius Three provides 54 miles to the gallon in the city and 50 miles per gallon on the highway. Many drivers feel it to be more efficient in urban areas because of the vehicle's regenerative braking and heavier use of the electric portion of the powertrain.
Technology
The dashboard has a dual-screen gauge cluster that is placed in the sightline. The advanced technology package includes a heads up display, lane departure warning, collision mitigation, and dynamic radar cruise control. Along with that package, you get a sunroof! Although it's not a technological feature per se, it's still a unique gizmo feature to have in a car! The center stack has an attractive 7-inch touchscreen display, which features navigation with Pio I search, along with XM satellite radio am/fm and media player integration.
If you like to keep tabs on how environmentally friendly you and your Prius are, there is an Expanded Eco Menu. It gives you a heads up on how efficiently you've been driving and provides you with some sensible tips on how to get even better gas mileage! Nobody is going to say no to that. The Prius Eco features acts as your mobile environmental teacher, giving you an Eco Score that grades you on your driving efficiency. Additionally there is an Eco Diary to allow you to record your driving history, and Eco Accelerator Guidance to encourage you to be a more efficient driver, and an Eco Wallet that shows you how much you spend on gas and how much you have saved on every trip.
Comfort
When you have a peek at the trunk of the Prius Three, you will be glad to see more cargo room than its predecessor. The back seats fold down to offer an extraordinary amount of room for your hauls. When the back seats are up, an average adult can fit comfortably. There is a 12-volt socket located near the back seats so passengers have access to a power supply to charge up their accessories on long road trips. Also it now has a better multi-link suspension in the back, allowing you to zero-in on taking more speed around the corners.
When you first drive the Prius 3, you will notice that it whisks you away in total silence because of its electric powertrain and improved sound deadening within the entire vehicle. When you push a little extra on the throttle the gas motor begins to ante up to smoothly offer more swiftness. If you have a disliking for extreme cold and hot weather, you will be glad to know about the heat-insulating windshield that comes with the Eco trim that reduce the amount of infrared ray transmission for a more comfortable cabin in those sweltering summer months. In the cold winter months, you are taken care of as well with a positive temperature coefficient ceramic heater that swiftly warms up the car's cabin without having to depend on the engine coolant to increase the temperature.
The Prius Three Hatchback has four drive modes which create different driving characteristics, the Normal, Eco, EV, and Power. Normal mode harmonizes the effects of fuel economy and acceleration. The power mode provides maximum torque from the electric motor each time the driver pushes the throttle, essentially prioritizing acceleration over fuel economy. However, if you want to save some coin and get the best fuel economy, put the vehicle in Eco mode. If you want to just use the electric motor while you are gently cruising around town, there is the EV option.
Overall
Toyota is aware that its basic Prius concept is a winning formula that sent them sky-rocketing into hybrid leadership. Drivers love an internal combustion engine that changes on-demand with an electric motor, transmitting power to the car's front wheels.
Although a lot of car reviewers like to put a lot of focus on the fact that the Prius tops the charts with fuel economy, and that is a good thing, but it has more to offer than just that. It's cool, futuristic, and edgy style, with a sturdy and tough chassis, enhanced interior design as well as furnishings, along with its polite road manners for other fellow drivers, pedestrians and our earth's ecosystem, make the Toyota Prius Three Hatchback one of the most versatile and functional rides on the market!
The car is not only a good starter vehicle for the more environmentally responsible driver, but it's also a fun ride! The Prius 3 is way more interesting than any average hatchback on the market. It is extremely practical, and has the economies which are very comparable to a moped, but with more comfort, style, and space! If you are interested in a 2016 Toyota Prius 3, contact used cars serving Santa Ana to book your test drive today!