Many auto-junkies often wonder what makes the Camry one of Toyota's most successful cars? When you see all the cars for sale Orange County and come across a 2019 Toyota Camry XLE V6, your first judgment is to assume that it's a mediocre vehicle that isn't in any way fancy, but you are wrong! The 2019 Camry has some eye-popping features that you just can't-miss out on!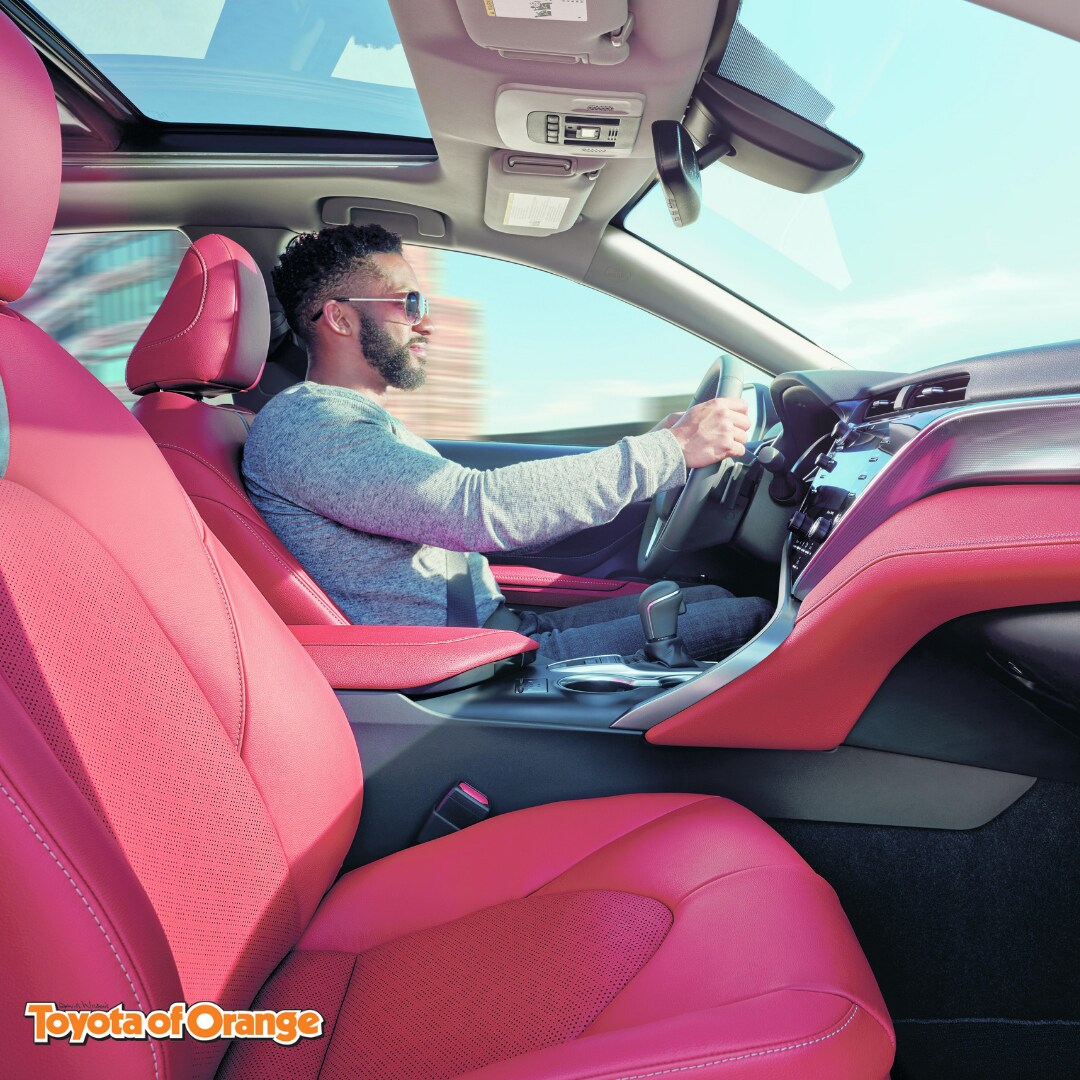 Driving
Most people compare the 2019 Toyota Camry XLE V6 to a Lexus in terms of driving experience. The silence you sense in the car's cabin is similar to how you would feel in a vault, and when you drive it you are cut off from the rest of the world (in a good way). Out of all the cars for sale Orange County the Camry XLE is almost luxury quality but comes with a price tag that's suitable for the man on the street.
The car comes with 268 horsepower, 3.5-liter V-6 engine. It is more of a niche engine, but still very good. The engine comes with four cylinders, which saves on fuel and economy. If you need strength, however, the V-6 engine gives you heaps of it! The engine and its six-speed automatic are mainly in the background, that is until you step on the pedal. Then you are united with an abundance of thrust and a delightful little roar from the car's exhaust. It has a pre-collision system, dynamic radar cruise control, as well as a Lane Departure alert system.
The Lexus caliber comes into effect again when noise, vibration, and harshness are involved. The only situation in which a Camry XLE stops duping a Lexus is during emergency stops since the transmission quivers a lot. When you have to stop, the pedal offers an exceptional, constant sensation from highway speeds to no speed. The average fuel economy is 30 mpg on highways, about under 20 mpg in the city and averages out to 24 mpg, which nobody complains about, especially coming from a V-6 engine.
Technology
Smack dab in the middle of the Camry XLE's dashboard, you will find an optional 7-inch screen. Toyota's Entune touchscreen infotainment system offers simple to use technology. This is especially convenient for individuals who want something a bit extra, but don't want to read the entire manual inside out just to know how to turn it on. The buttons and dials for many of the car's infotainment functions are enormous, so you are never going to miss them. Large tiled icons appear on the screen, which might nauseate some as outdated, but do provide an easy read for many who are trying to access them while driving.
After five to 10 seconds of starting the car, Entune is loaded and ready to go. Navigation comes in an optional package which includes upgraded JBL audio components, a larger touchscreen, Siri Eyes Free and Entune Apps that allows you to connect to services such as up-to-date weather maps, real-time traffic information and third-party apps like Yelp and Slacker Radio.
The 2019 Camry comes with a couple of advanced driver assistance systems. When opting for the Advanced Tech package, you opt for forward collision warning, autonomous emergency braking, lane-departure warning, adaptive cruise control, and automatic high beams.
All driver aids are switched on by default, except for the stalk-controlled adaptive cruise control. The adaptive cruise begins at 25 mph and rises to 108, but it will not lead you to a full stop if traffic does, so you need your eyes on the road at all times. On a typical highway, the cruise control accelerates and brakes sleekly to go with the flow of traffic.
Comfort
The steering wheel feels immobilizing in the center, but you don't need to be a bodybuilder to turn the car and that is what is most important. The suspension can absorb small and large pavement dips and dives with very little noise and shakes. Overall, when it comes to suspension, you are not getting the whole nine yards luxury experience. This sensation usually feels like drifting on a cruise liner in calm oceanic waters, but its suspension is more absorbent than other car brands of its caliber.
The Camry XLE comes with 17-inch aluminum alloy wheels, a blind spot indicator on the side mirror, a smart key system which allows you to lock the car door by just pressing on the handle. You can also open the door by placing your hand inside the handle. The driver's seat comes with lumbar support and on the left-hand side, you can find buttons for Blind Spot Monitoring, Traction, Lane Departure Alert and Pre Collision System. In the inside of the driver's seat, there are the mirror controls, window locks, power locks and controls to manage your front and rear windows. In a nutshell, you get all your creature comforts to not have to lust after for more.
Overall
When automobile enthusiasts have a look at the cars for sale Orange County they usually think that a Toyota Camry is a "boring" car when you compare it to other Toyota models. However, the Camry is stiff competition to many other vehicles on the market.
It is a practical, reliable and safe car that gets you from point A to point B without any fuss and hassles. Also, it has good fuel economy, enough space for the entire family and all the conveniences that don't keep you yearning for extras. The Toyota Camry takes the cake for all of the above. It can perform everything for the average consumer, without leaving them strapped and stone broke.
Is it the perfect car? No, not really. But what car is? However, it is a vehicle that suits a wide range of personal tastes, even though car enthusiasts turn their noses at it. The 2019 Toyota Camry XLE is a popular car for many buyers on the market and that is why it is one of the best selling vehicles in the US!