It's been hot in Orange County throughout August and September, that's for sure! For health reasons, locals across southern California are advised to restrict their time outdoors and stay out of the sun. Living in a seemingly endless summer can be both a blessing and a curse in places like this! You may easily protect yourself from the heat by choosing an air-conditioned vehicle whenever possible. But what about your car? That's where Toyota of Orange, one of the most respected dealers near Tustin Toyota, comes in with the most effective tips to help you protect your car from the extreme heat.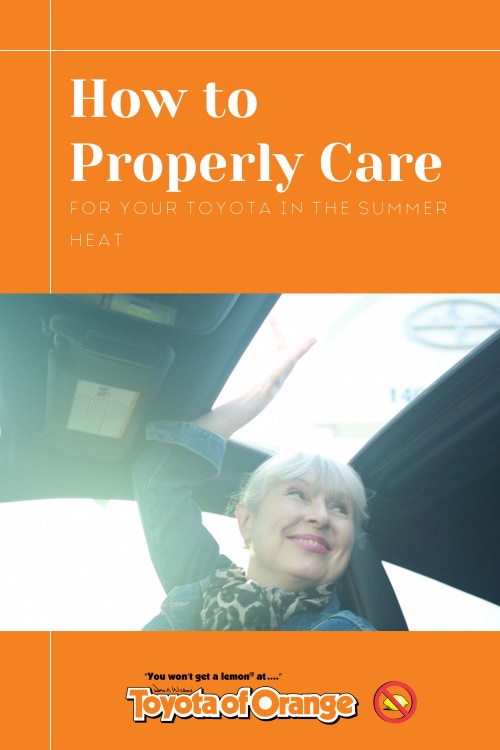 Use a sunshade.
Owning a sunshade is extremely important in a state like California. If you park at an angle where the sun beats down your windshield for hours every day, a high-quality sunshade can keep your car several degrees cooler than leaving the windshield exposed. As a result, you'll have to deal with dash fading, cracking, warping, and other issues. You may extend the life and condition of your automobile by taking a few extra minutes to set up a sunshade when you know you won't be returning to it for a while.
Park your car in the shade or a covered area.
Parking undercover is the most straightforward approach to safeguarding your automobile when the weather is sweltering. Covered parking significantly improves the life of your car's interior by preserving leather, preventing burning, and even preventing dashboards and other crucial parts from deteriorating due to extended exposure to the intense heat. Finding a covered parking space will save you money and headaches, especially as your car ages, because the average interior temperature of a car can rocket well above 150 degrees Fahrenheit during a warm day. Additionally, this will stop your paint from fading, your windows from changing color, and the display screens on your car from overheating.
Have your windows cracked at all times.
When it's scorching outside, open your windows! This allows heat to escape the cabin, making it less stuffy. Dealers near Tustin auto center will do this with the cars on their lot.
Install seat covers.
Your automobile seats can benefit from seat covers in several ways. They aid in keeping your chairs clean, and they also help in defending them against deterioration. But more crucially, keeping the seats cool in the heat improves the driving experience.
Check up on your air conditioning.
Get your car's AC checked at the authorized center if you notice that it isn't keeping you cool enough. It can be a problem with the compressor or the refrigerant charge level. Or perhaps the only problem is that your car's gas tank is low and the air conditioner has to be re-gassed. Get it checked out, identify the cause, and fix it before it stops operating. A well-working AC is vital to stay comfortable while driving and prevent accidents caused by driving while distracted.
Need some help?
If you feel your car needs some tuning to survive the heat, don't hesitate to come into Toyota of Orange, one of the leading dealers near Tustin Toyota in Orange County, CA!