The summer is here, and it's packing a lot of heat! The Toyota dealer near Riverside, Ca, can't blame you for planning your escape on a road trip to cooler climates, beaches, and luxurious swimming pools. However, is your RAV4 road trip ready? If you want to answer this question honestly, you have to take a good hard look at your precious Toyota RAV4 and check its roof for a rack. Does it have one? If not, it may be time to get one.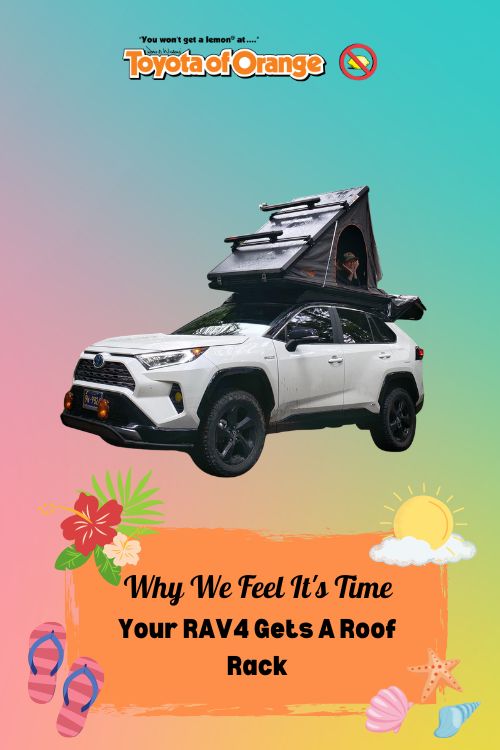 Dealers near Riverside Ca tell us that roof racks don't come standard on many vehicles, but most RAV4s have side rails, which makes a roof rack an easy upgrade.
To get a lot out of your roof rack, the Toyota dealer near Riverside Ca recommends you find one that's of high quality, meets your particular needs and meets regulations. The good news is there's a roof rack out there that can essentially carry anything you can imagine.
What Is A Roof Rack?
The Toyota dealer near Riverside Ca informs us that a roof rack is a set of bars that sticks to the vehicle's roof. There are various types, attachments, and styles, each designed to carry a specific range of cargo. If you have the proper roof rack for your Toyota RAV4, you can safely transport the following:
Snowboards and skis.

Bikes.

Canoes and kayaks.

Luggage.

Surfboards.

Other cargo (stored in baskets, bags, and boxes).
There are many advantages to enjoy when you have a roof rack. With one, you can do the following:
Mount and transport very large items that can't fit within the car's interior.

Boosts passenger space or leg room by carrying everyday cargo up above.

Swiftly and securely gets your gear to the outdoors for you to enjoy.

Maintains a clean car interior (filling your roof rack with wet or dirty gear.
Whatever you're thinking to carry on the roof of your RAV4, there's a type of roof rack (and/or accessory) to give you more convenience:
Base Rack System
A base rack system is a foundation for dependable rooftop transport. To be clear, a base rack system is not the same as roof rails which, as talked about above, come standard on many RAV4s and run parallel to the length of the car, crossbars, or base racks, attach perpendicular to your rails. Each system consists of towers, the bars themselves, and a fit kit. Some systems mix the towers and load bars into one piece, which may or may not also need a fit kit.
Canoe and Kayak Rack
A kayak rack is the most important gear you need to own for secure kayak or canoe transportation.
These come in lots of different styles, ranging from basic foam pads to saddle and roller systems:
Temporary pads: These are a good, swift, and cheap way of transporting water gear. They're usually only designed for short-distance travel and for those who don't have to transport a kayak or canoe most of the time. Also, they're not ideal for traveling at high speeds.

Saddle with rollers: The most significant benefit of this kind of kayak rack is the large surface area for your kayak to rest on. This gives you extra security at higher speeds, through heavy winds, or weather of any kind. Ultimately, the design is the most aerodynamic, reducing noise and fuel costs.
J-cradles: This is the most sought-after kayak rack design. Created in a "J" shape, these are side-loading racks that stay at a 45-degree angle, leaving room to transport numerous objects at once. J-cradle racks are stable, safe, and easy to load.

Stackers: These hold your boats in a totally upright position (vertically, on their sides) and give maximum transporting capacity (up to four kayaks at once, usually). Although they have a low price point, stackers are very safe and easy to install.
Roof Cargo Basket
Cargo baskets are ideal for carrying camping or beach gear, cargo bags, luggage, Jerry cans, spare tires, and other cargo. They're equivalent to roof cargo boxes — the main distinction being the freedom to put items on top of each other higher because of the open design. These baskets are great for bulky or irregularly shaped items.
Roof Cargo Box
Rooftop cargo boxes can effortlessly affix to your RAV4's preexisting factory crossbars, roof rails, or an aftermarket base rack system. They're ideal for transporting camping equipment, skis, snowboards, and any other cargo that requires protection from the elements.
How To Select A Toyota RAV4 Roof Rack
To make your roof rack worthwhile, it's important to get a well-made one. Also, just as important is finding a roof rack that meets your particular cargo requirements. No matter the style you're going for, keep these criteria in mind:
Weight: Strong is good — heavy isn't. Well-made aluminum racks are about 30% lighter than steel.

Accessory compatibility: The vaster the range of accessories you can use, the more adventure flexibility you'll experience. Also, many companies design their products to be brand-compatible only, so take a good look at these as well.

Strength/durability: The more rigid the conditions (both weather and road), the more durable your rack has to be. If serious off-roading is not your style, a less expensive (top-rated), one will get the job done.

Profile: As said earlier, anything you put on the roof of your vehicle will influence noise as well as fuel economy. The lower the profile, the better those things will be. Also, not forgetting loading and unloading will be made simpler.
Your car's roof: Many RAV4s come standard with factory-installed roof rails. Whether or not your vehicle has these will call the shots on the type of rack(s) you'll need.